Stats & Facts Sunday: How to win in EuroMillions Basketball League?

The people at Global Sports Analytics investigated "How to win in the EuroMillions Basketball League?":

Fast and Furious?
Hubo Limburg United played with the greatest pace (74.31), scoring 83 Points/game with 65 FGA/game; leading the league in all three categories (per 40 minutes)
Key Player: Khadeen Carrington
2nd most shots from 2 (227 attempts and 52.4%) – played aggressively, attacking and pushing the pace per individual possession
Best scorer at 14.1 Points/game, most efficient with 17.1 PER avg
Also 2nd most free throw attempts 114 (3.56 per game) – constantly putting pressure on the defense in transition, pick & roll, isolation
Dangerous from Downtown?
Kangoeroes Basket Mechelen shot 26 threes per game, an entire standard deviation above the league average!
Key Player: Kwan Cheatham-Jr
The team's best scorer with 13.4 Points/game
Took the most 3s on the team as 6'10 big stretch player (77-211, 36.5%) while making 2.13/game)
2nd best rebounder (6/game) and best defensive rebounder with 5.3

Protecting the Rock?
Belfius Mons-Hainaut turned the ball over the least, with an impressive per game average of 10, (season total: 397)
Key Player: Chris Jones
Team's highest assist ratio, to complement being 2nd in both PER and Points/game
Leader in Usage rate at 26.2%, indicating his impact per individual possession
________________________________________________________________
Limburg, Mechelen and Mons approached competition with three unique ways to play, lead by three tremendous individual performances. But, the difference between good and great this season wasn't related to offense, or styles, but rather, Defense. Team Defense: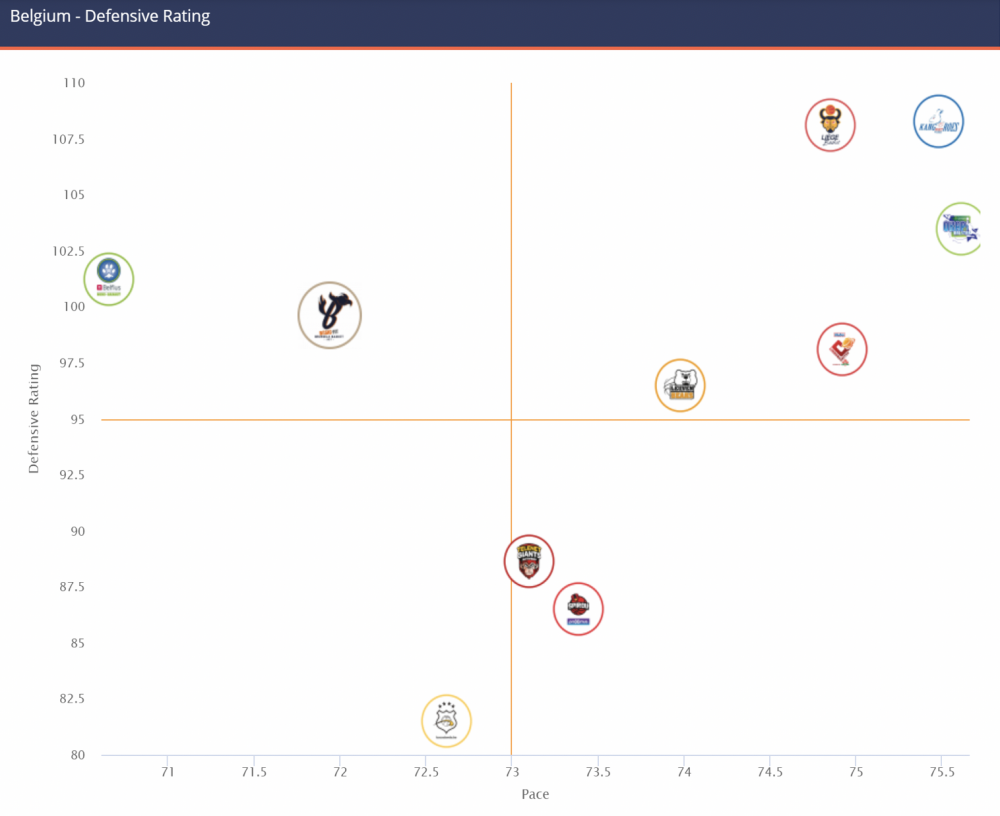 •Telenet Giants Antwerp (lead in STL%) and FILOU Oostende (lead in DRB%) suffocating opponents by forcing turnovers and dominating on the glass
•Both finished with the lowest defensive rating, opponent FG%, and points yield per minute (1.7)
•Each team limited assisted field goals per game (13.0/OPP-APG), leading to shortened possessions and ultimately less points surrendered
•The teams accounted for 9 of the "lowest" 10 players by individual defensive rating, which cannot be influenced by a player's teammate
| | |
| --- | --- |
| Team | DRtg |
| FILOU Oostende | 97.50 |
| Telenet Giants Antwerp | 98.80 |
| Spirou Basket Charleroi | 104.00 |
| Brussels Basketball | 110.40 |
| Stella Artois Leuven Bears | 111.40 |
| Belfius Mons-Hainaut | 114.00 |
| Hubo Limburg United | 114.40 |
| Kangoeroes Basket Mechelen | 116.00 |
| Crelan Okapi Aalst | 118.00 |
| VOO Liege Basket | 119.60 |
| League Average | 110.41 |
Defensive Rating (DRtg): Points allowed per 100 possessions (lower, the better)
Pace: An estimate of the number of possessions per 40 minutes by a team
Opponent Turnover Percentage (OPP TOV%): Number of turnovers an opponent averages per 100 of their own possessions
Usage Rate: The percentage of team plays used by a player while he was on the floor